We sell gift vouchers!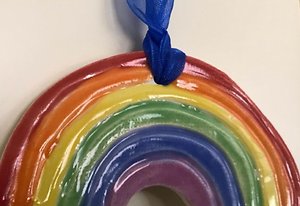 We intend to be a covid-safe establishment in these ways:
We will wear masks whenever customers would prefer us to do so
We will make full use of screens for hand-building and wheel classes
- however, this is not possible for groups of more than two customers
We will provide sanitizer for customers
We will clean between customer visits
We will welcome feedback, requests, and advice about covid safety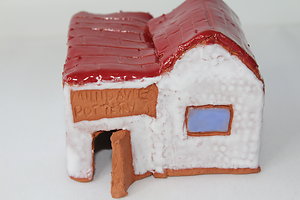 The Milndavie Pottery and Training Centre
The pottery is in a lovely setting in Strathblane, overlooking the Campsie Hills. We're near Glasgow, a ten minute drive from Milngavie or Lennoxtown, and for those who prefer not to drive, the bus stop is a few hundred yards from our door! The building is light and airy, and there is plenty of parking space available. As well as being the perfect place for a pottery course, the studio is available for potters to hire on a part-time basis. If you have particular needs please do talk to us as we have done our best to make the pottery accessible to all and want to make all possible adjustments so everyone can enjoy the opportunities we are offering.

We have organised the activities in the pottery in a way that we hope will cater for all - from taster sessions and painting on ready-made items - right through to the option of becoming one of our Associates and using the studio regularly for private projects. We take bookings for private lessons (both handbuilding and on the wheel), independent projects and to use our wheels.

The pottery is the perfect place for a party or to bring a group - we're near to Glasgow, ten minutes from Milngavie Station, round the corner from Lennoxtown, and can facilitate your very own ceramic workshop for team building or just for fun. Look on our parties and groups page for more details.

For details of these activities, click on the links in the summary below or click here to download the pottery leaflet. Or click here for our current pricelist.
These activities are currently available
1. Taster sessions
Make something from scratch with a lump of clay and come back to glaze it three weeks later. There are two types of taster sessions:
a) Hand-building - choose what to make or copy our samples if you prefer.
b) Or make a little less by hand so you can also have a quick go on the wheel.
£45 per person for 60 minutes make and glaze sessions.
See our Taster Sessions Page for more details.

2. Classes
Learning to make pottery is a wonderful skill to gain. We have two pottery course options with infinite possibilities attached to both!
a) Learn the basics of handbuilding.
b) Learn the basics of throwing on the potters wheel.
Whether you are interested in the wheel or hand-building we offer two beginners courses (three sessions for £90) and an intermediate course (six sessions). See our courses page for more details.

3. Painting on ready made pottery
Prices from £9 per piece, depending on what you choose to paint. Maybe this could be an easy start to your ceramic journey!
More details are on our Activities Page.

4. Use the pottery for independent projects
Studio Time is available for people who want to practice on their own. Let us know at the time of booking if you want to use the wheel.
£18 for 90 minutes per person.
More details of "Studio Time" are on our Activities Page.

5. Groups
Hand-building and painting on ready-made pottery are both perfect activities for groups.
To book the whole studio for a class or workshop you'll need minimum 6 participants (max 10). It's a great place for a party! There are lots of options.
See our Groups Page for more details.

The prices quoted for any of our activities will always include the total cost of all materials, firing in the kiln, and tuition.

6. Associate Scheme
Potters who want to commit to weekly independent use of the studio can gain all the benefits of becoming an Associate. Prices for 6 hours or more weekly hire. Details are in the leaflet at the bottom of the Activities Page.

7. Take clay home
If for any reason you'd prefer to craft at home our Clay at Home and Glaze at Home schemes are for you! The price you pay includes firing in the kiln so just bring your creations back, when ready, for firing. £15 for the clay, £20 for the glaze. You can also take ready-made pottery to paint at home.
See our Clay at Home Page for details.

8. Kiln hire
We have limited capacity for kiln hire but always enjoy seeing what people bring to fire! The kiln costs £12 per shelf. Details are at the bottom of our Activities Page.
Whether you are travelling from Glasgow or further afield, from nearby in Lennoxtown or further away in Stirling, from round the corner in Milngavie, or from here in Strathblane, if you're looking for a pottery class or ceramic workshop, please get in touch to discuss your plans.

We can take payments via PayPal, or from any of these cards: